Last Friday, three year 7 boys had the opportunity to attend the SAPSASA Mountain Bike State Carnival. Matthew Morrell, Ivan Wilkinson and Nick Woods had an early morning start out at O'Halloran Hill Recreation Park, where Ivan and Nick were to compete for UPS in the team event and Matthew entered as an individual rider.
The team event challenged the boys to complete as many laps of the track as possible in two and a half hours. Nick set out strongly at the start, giving their team a good lead. His time was a stand-out, clearing the pack in the first few turns. Ivan also rode with pace and determination leading to a second place overall for our team – a remarkable effort in this strong competition. The championships were a wonderful memory for the boys (pictured above) to treasure until next year.
Matthew (pictured below) competed in the under 15s individual event in which he needed to complete two full laps of the course in 30 minutes – a difficult task for even the most experienced riders. While many participants were unable to finish the race, Matthew was up for the challenge and finished the course with time to spare!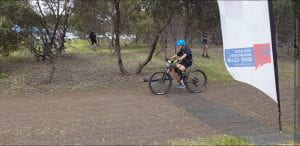 Congratulations Nick, Matthew and Ivan – we are very proud of your efforts.